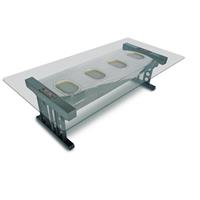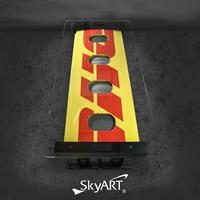 Gather the team and plan your next steps around this 100% authentic fuselage meeting table from SkyArt. This is unlike your ordinary conference table and is the place where ideas can flourish and progress is made.

We have upcycled this aviation table using authentic fuselage pieces from a decommissioned airplane. Rather than letting it go to a scrapyard, these materials live on as they are celebrated in SkyArt modern office furniture using aviation parts.

This piece is scalable to best fit your needs and the size of your space. The fuselage section desk is also customizable in a number of other ways, including the finish, secondary colors, and device management.

SkyArt has gone above and beyond to make even the finest details as perfect as possible. This table features hand-made custom shaped cast metal legs along with a solid tempered glass top. Underneath the glass you can see the fuselage and the windows from the plane.

Gather around this piece of history!

Please get in touch with us and let's start discussing your needs.

Each desk comes with a Certificate of Authenticity, telling you a brief history of the aircraft it was upcycled from.
PACKING DIMENSIONS
PACKING TYPE : Palleted Wooden Crate
PRODUCT SPECS
Made with genuine aircraft airframe section
Custom-made cast metal legs, powder-coated to any color of your choice
Shiny polished surface
Hand-welded, powder-coated, bespoke cast metal legs
Tempered glass desktop
Customisable power and data cabling
Scalable in dimensions to suit your needs
Condition: Refurbished
Operation: Electronic
Style: Classic
Finish: Raw, Painted, Airbrush Art, Sand Blasted, Matt Satin, Mirror - Shiny
Manufacturer: SkyArt
Aircraft Model: A320