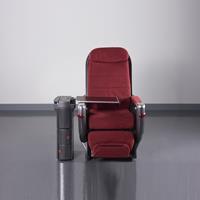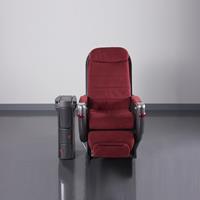 With the push of a button, let this seat electronically recline up to 180 degrees and let your stresses drift away. That is what many travellers have done in this seat before, and now you have the chance to enjoy next-level comfort in your office, home, or man cave.
This is a 100% authentic Sogerma Lie-Flat Business Class Seat removed from a Turkish Airlines A330 place during cabin refurbishment. It has been repaired, cleaned, and maintained by SkyArt and is now yours to take home. This seat is perfect for non-aviation use and is a must-have for business class travellers, aviation fans, and anyone that wants a distinct conversation piece in their home.
This version of the Sogerma Lie-Flat Business Class Seat has been converted into a single configuration from the original double seat assembly by the skilled SkyArt team. It features a standalone side unit with a folding tray table. This is also part of the original seat and can be easily moved around with bespoke hidden castors.
This particular seat comes with brand new genuine leather cushion covers. The faux leather cover version is also available.
This lie-flat seat features the original hardware and is kept as close to the original as possible by SkyArt. We have replaced the original fabric cushion covers with Alcantara material, we can also furnish the seat with other material on request and include the in-flight entertainment screens on request as well. With built-in reading lights along with storage compartments and power outlets, this is the luxury seat you are sure to love.

PACKING DIMENSIONS
PACKING TYPE : Palleted Wooden Crate
PRODUCT SPECS
Ex Turkish Airlines Business Class Seat
Converted from original double seat
Comes with brand new cushion covers.
One button TTL position.
Motorised electronic recline control.
Altered to work with 110V-240V / 50-60 Hz domestic power.
Hidden tray tables inside the mobile side unit
Made with Love!
Condition: Refurbished
Configuration: Single
Operation: Electronic
Style: Fantastic
Manufacturer: Sogerma
Aircraft Model: A330
Ready to be dispatched from Istanbul, Singapore