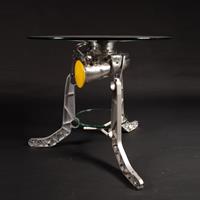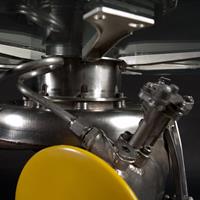 If you want to instantly upgrade the aesthetic of any room, this is the coffee table for you. The Vortex Coffee Table features authentic air conditioning system components pulled from an Airbus A300 cockpit.

These components have been put together to create a stunning design and sandblasted for a smooth, satin finish that is accentuated by the tempered glass top.

Each piece is 100% hand-made and comes to your home preassembled for easy setup. This upcycled item is for anyone that is a fan of aviation history or just enjoys the finer details of life.

The table is scalable to fit your space, so whether you need an end table or a room-dominating piece, this is the table for you.

The Vortex Coffee Table comes complete with a certificate of authenticity. Don't miss your chance to bring home a piece of authentic aviation history with this airplane coffee table.
PACKING DIMENSIONS
PACKING TYPE : Palleted Wooden Crate
PRODUCT SPECS
Condition: Manufactured as new using genuine aircraft parts
Manufacturer: SkyArt
Aircraft Model: A300
Ready to be dispatched from Istanbul