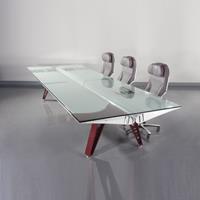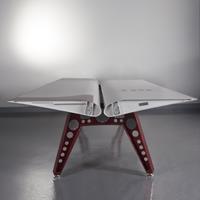 Gather around and launch new ideas with this exclusive airplane wing flap meeting table from SkyArt. This table is a showstopper and is bound to receive many compliments from team members and guests when they gather around it. The SkyArt exclusive wing flap table is made from an authentic piece of the plane's wing that has been upcycled and refurbished for your home or office use.

This conference table has everything you need and will serve as the runway for ideas for many years to come. Each table is made to order and we offer plenty of customization options. Choose from mirror-like gloss or satin matte polished or have the top surface repainted in a custom color or with your company logo.

This table also features a tempered glass top which can be in two or three pieces depending on the length of the table. Each table includes an exclusive certificate of authenticity. If you're looking for an aviation-inspired meeting table, this is it!
PACKING DIMENSIONS
PACKING TYPE : Palleted Wooden Crate
PRODUCT SPECS
Condition: Manufactured as new using genuine aircraft parts
Finish: Raw, Painted, Airbrush Art, Sand Blasted, Matt Satin, Mirror - Shiny
Optional Add-Ons: Built-in Power Sockets
Manufacturer: SkyArt
Aircraft Model: A300 MSN: 83
Ready to be dispatched from Istanbul