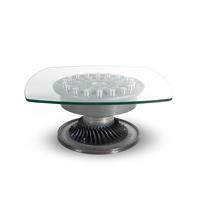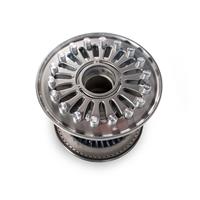 It's time to elevate your living room with this authentic jet engine coffee table from SkyArt. This piece is hand-made to order using various commercial aircraft parts made of nickel and titanium alloy. The result is a work of art that is sure to spark up a conversation and elevate any living space.

This simple yet attractive design is the work of the talented artists and workers at SkyArt. Originally, these parts were the components in a high-powered jet engine on a commercial airliner, complete with a landing wheel rim. Now you have the chance to bring the spirit of aviation home with this exclusive coffee table from SkyArt.

The Le Mans Jet coffee Tables features a sand-blasted metal finish along with a tempered glass top cut to shop. You have the option to customize the shape of the top to fit your existing design aesthetic and space itself. The coffee table comes with a certificate of authenticity.
PACKING DIMENSIONS
PACKING TYPE : Palleted Wooden Crate
PRODUCT SPECS
Condition: Manufactured as new using genuine aircraft parts
Manufacturer: SkyArt