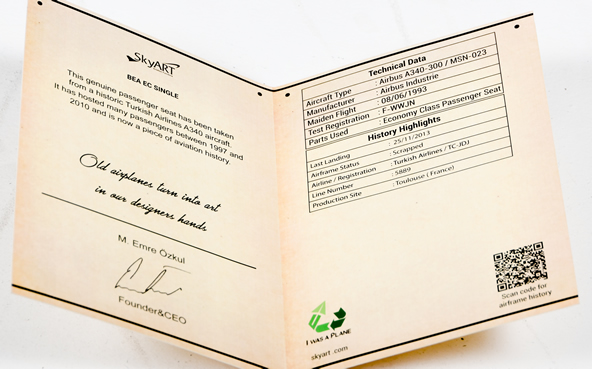 CERTIFICATE of AUTHENTICITY
At SkyArt, genuine aircraft parts are used as the main ingredient of our designs.
And every design in SkyArt.com comes with a " Certificate of Authenticity", stating that genuine aircraft parts are used from the specified aircraft in the making.
But what really differs between two similar designs is "the history" of the airframe.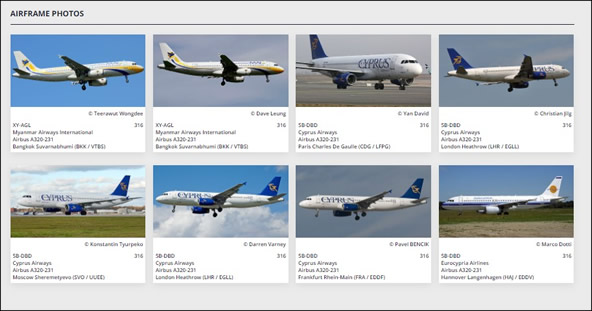 HISTORY MAKES IT UNIQUE!
We investigate the history for the airframe where each part comes from.
Historic list of operators, incident reports if any, airframe status history, historic photos & videos are thouroughly researched.
The history of the part adds value to the final design, making it "truly unique".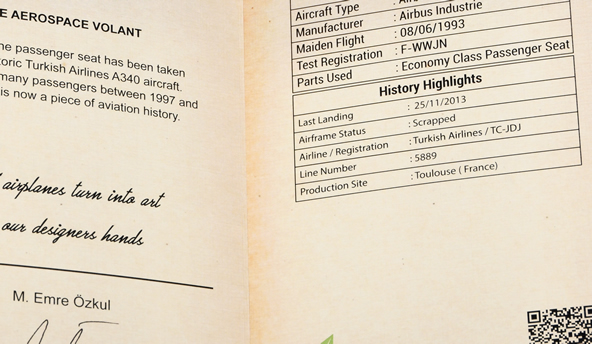 OWN A PIECE OF AVIATION HISTORY
Every piece in SkyArt.com has been upcycled by hand using genuine aircraft parts.
Your order will be delivered with a certificate listing a brief history of the airframe, a QR code to a trusted plane spotters website for you to find out more about the airframe.
The certificate is printed on upcycled paper and send in a similar envelope.
Own a piece of aviation history with your next purchase at SkyArt.com