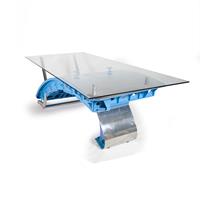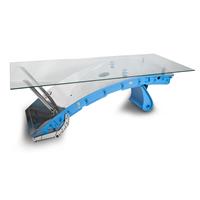 The door on a commercial airliner is often one of the strongest parts of the plane. It's what separates the outside world in the sky from the pressurized interior. As such, it would only be fitting for SkyArt to create an aviator desk made from the flying door of an authentic Airbus A340. This is one of the most eye-catching, robust desks that you have likely ever seen and is sure to catch the attention of your clients and guests whenever they come visit your office. SkyArt has taken this genuine airline door and refurbished and upcycled it to be a functional work of aviator furniture.

The best part is you can fit this desk in a variety of locations, whether it's your reception desk or your primary office desk, SkyArt is happy to customize yours to better fit your needs.

You can customize tons of features of this airplane door desk. From the finish of the metal to the secondary colors, and the shape of the glass top, your ultimate desk has arrived.

Each desk comes with a Certificate of Authenticity, telling you a brief history of the aircraft it was upcycled from.
PRODUCT SPECS
Condition: Refurbished
Finish: Raw, Painted, Airbrush Art, Sand Blasted, Matt Satin, Mirror - Shiny
Optional Add-Ons: Built-in Power Sockets
Manufacturer: SkyArt
Aircraft Model: A340
Lead_time: 5-6 weeks
* Subject to change based on SkyArt's schedule at the time of order confirmation