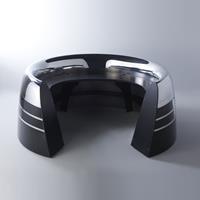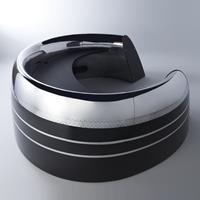 Greet your guests with the best reception desk around. This unique piece features a shiny polished leading edge that reflects light and draws in visitors to your corporate office. This piece is made using a genuine General Electric CF-6 Engine nose cowl and is currently in stock.

SkyArt has taken this piece from a decommissioned plane and has upcycled it to create something truly unique and statement-making. Originally manufactured by the General Electric company, this is a great product to use as your reception desk. Large enough to seat a person comfortably, this desk's worktop area can be made of either wood or tempered glass.

We also offer customization options. You can choose the metal to be either a mirror-like shine, matte polished, or repainted in any color you prefer. With concealed wheels for easy transportation and a certificate of authenticity, upgrade your reception area with this airline desk from SkyArt.
PACKING DIMENSIONS
PACKING TYPE : Palleted Wooden Crate
PRODUCT SPECS
Condition: Refurbished
Finish: Raw, Painted, Airbrush Art, Sand Blasted, Matt Satin, Mirror - Shiny
Optional Add-Ons: Built-in Power Sockets
Manufacturer: SkyArt
Aircraft Model: A300 MSN: 83
Ready to be dispatched from Istanbul