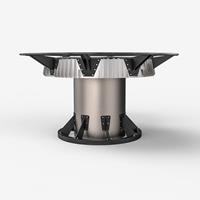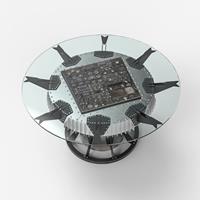 Get ready to take your next meeting to another level. This meeting table can transform any room and take your expectations into the stratosphere. At SkyArt we specialize in taking parts from decommissioned airplanes and finding ways to breathe new life into them. Among our many pieces, the MD-82 Meeting Table has to be one of our favorites.

One look at this aviation meeting table and you will know that it is not quite like any other table out there. Part history, part utility, and part art, if you want a statement-making meeting table, you have found it. This piece uses the cockpit indicators from a genuine MD-82 aircraft. The table itself has been engineered from a nickel alloy and features a tempered glass tabletop.

The MD-82 Meeting Table comes with a certificate of authenticity and is bound to be a favorite among your clients, employees, and visitors for years to come.
PRODUCT SPECS
Made with genuine MD-82 cockpit indicators
Unique design
Only two in stock
Nickel alloy metal frame
Enhanced with solid wood accent
Tempered glass desktop
Can accommodate 8 occupants
Condition: Manufactured as new using genuine aircraft parts
Finish: Painted, Airbrush Art, Sand Blasted, Matt Satin, Mirror - Shiny
Optional Add-Ons: Built-in Power Sockets
Manufacturer: SkyArt
Aircraft Model: MD82 MSN: 49142
Ready to be dispatched from Istanbul