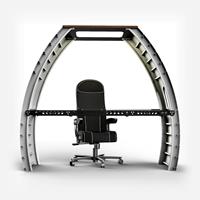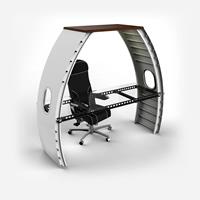 Who doesn't love the flying experience? It's exciting, as it usually means that you're jetting off to a faraway land to see new sights, experience new sounds, and enjoy the time of your life. If you've always been a window seat kind of person, SkyArt has the airplane desk for you.

The Double Fuselage Office Desk is made using 100% authentic components from an Airbus A320 fuselage section. This includes the port hole windows still intact attached to the rest of this fuselage section desk.

SkyArt has taken these components from the plane and upcycled them. Rather than being scrapped and forgotten forever, now aviation enthusiasts such as yourself can celebrate the history and heritage of air travel every day with this desk.


PACKING DIMENSIONS
PACKING TYPE : Palleted Wooden Crate
PRODUCT SPECS
Condition: Manufactured as new using genuine aircraft parts
Configuration: Single
Operation: Manual
Finish: Painted
Optional Add-Ons: Built-in Power Sockets
Manufacturer: SkyArt
Aircraft Model: A320
Ready to be dispatched from Istanbul