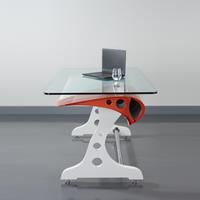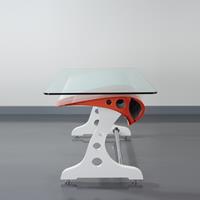 If you're tired of the same old desk furniture and want to add a spark of industrial design to your office, choose the Wing Slat Office Desk.

This is a 100% authentic aircraft wing slat from an Airbus A340 aircraft. SkyArt has saved this piece of aviation history and has upcycled it, turning it into a beautiful work of functional office art. If you're an aviation fan or you just enjoy the luxury appeal of aviation grade metal, this is the aviation desk for you.

SkyArt is ready to customize this aircraft wing desk to best suit your needs and design preferences. Work with us to customize everything from the finish of the metal to the secondary colors, electronic add-ons, and more.

The desk features adjustable pingo legs along with an ultra-strong tempered glass top too. Make your office space where clients and coworkers want to sit and chat with The Wing Slat Office Desk.

Each desk comes with a Certificate of Authenticity, telling you a brief history of the aircraft it was upcycled from.
PACKING DIMENSIONS
PACKING TYPE : Palleted Wooden Crate
PRODUCT SPECS
Finish: Painted
Manufacturer: SkyArt
Aircraft Model: A340 MSN: 023
Ready to be dispatched from Istanbul