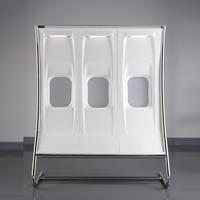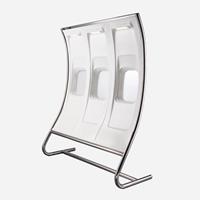 TRIO LIGHT STAND
At SkyArt, our team of engineers and artists create one-of-a-kind pieces of airplane furniture for aviation enthusiasts around the world.
One stunning example is the Trio Light Stand, which has been upcycled from the sidewall panels of a Boeing 737-300.
Completely unique in every way, this piece comes with a certificate of authenticity and measures 165 cm in length by 205 cm in height.
Fully functional and boasting LED lighting side the three widows, this innovative piece of art features a glass shell and chrome-plated mounting.
It is truly the perfect display for any office, home, or business.
PACKING DIMENSIONS
PACKING TYPE : Palleted Wooden Crate
PRODUCT SPECS
Made with genuine B737-300 sidewall panels
Features LED lighting inside the windows
Condition: Refurbished
Configuration: Triple
Manufacturer: SkyArt
Aircraft Model: B737
Ready to be dispatched from Istanbul