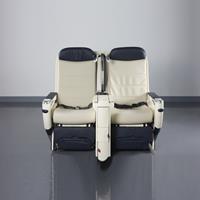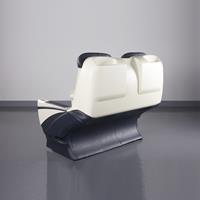 With the push of a button, let this seat electronically recline up to 170 degrees and let your stresses drift away. That is what many travellers have done in this seat before, and now you have the chance to enjoy next-level comfort in your office, home, or man cave.

This is a 100% authentic Sogerma Lie-Flat Business Class Seat removed from a Turkish Airlines A330 place during cabin refurbishment. It has been repaired, cleaned, and maintained by SkyArt and is now yours to take home. This seat is perfect for non-aviation use and is a must-have for business class travellers, aviation fans, and anyone that wants a distinct conversation piece in their home.

This lie-flat seat features the original hardware and is kept as close to original as possible by SkyArt. We have kept the original fabric cushion covers, but can furnish new ones on request and include the in-flight entertainment screens on request as well. With built-in reading lights along with storage compartments and power outlets, this is the luxury seat you are sure to love.


PACKING DIMENSIONS
PACKING TYPE : Palleted Wooden Crate
PRODUCT SPECS
Electronically controlled 180 degrees lie-flat seats
In original double configuration
Converted to work with domestic power (100-240V & 50-60Hz)
Various upholstery options (additional charges may apply)
Folding tray tables inside the centre armrest
Adjustable and dimmable reading light for each passenger
Condition: Refurbished
Configuration: Double
Operation: Electronic
Style: Classic
In-Flight Entertainment (IFE) System
Optional Add-Ons: Passenger Life Vests, Seat Belts, Seat Tracks
Manufacturer: Sogerma
Aircraft Model: A330
Lead_time: 3 - 4 Weeks
* Subject to change based on SkyArt's schedule at the time of order confirmation