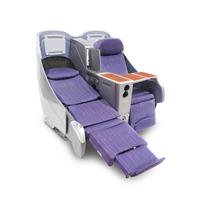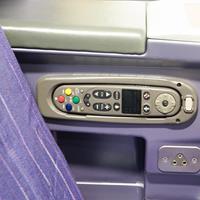 Transform your living room with an aviation-themed, authentic pair of lie-flat seats. Pulled directly from the business-class section of a Thai Airlines B777 aircraft, these authentic aviation seats feel just as luxurious at home as they do in the skies.

Taken directly from the plane and upcycled by us, these seats are for anyone that truly admires the beauty found in engineering and aerospace design. They are just as strong as the day they were produced and feature luxury appointments such as motorised electronic recline control, ergonomic design, and more.

These are 100% authentic BE Aerospace brand business-class seats refurbished, maintained, and outfitted for non-aviation use by SkyArt. The result is a lounging experience that is miles above your standard recliners. No installation or assembly needed, just unbox them and you are ready for mile-high comfort!

These seats will be the perfect addition to any space such as home theatres, gaming rooms, living rooms, or man caves, or any other place you want maximum comfort with an aviation-inspired aesthetic. Relax in the first-class comfort with SkyArt custom airplane seats. Order yours today!


PACKING DIMENSIONS
PACKING TYPE : Palleted Wooden Crate
PRODUCT SPECS
Comes with Thai Airlines branded original fabric cushion covers.
Includes the IFE (In-flight Entertainment) System.
One button TTL position.
Motorised electronic recline control.
Altered to work with 110V-240V / 50-60 Hz domestic power.
Flexible dimmable reading light for each seat.
Hidden tray tables inside the center armrest
Also available with brand new cushion covers upon request and at an extra cost.
Condition: As Removed
Configuration: Double
Operation: Electronic
Style: Authentic
In-Flight Entertainment (IFE) System
Part_Number: 99217133
Manufacturer: BE Aerospace
Aircraft Model: B777 MSN: 27731
Ready to be dispatched from Istanbul, Singapore