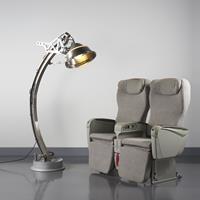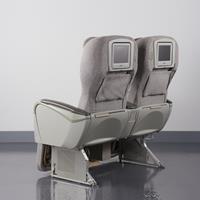 Airline seats add a different aesthetic that typical furniture just can't match. If you're a fan of aviation history as well as vintage appeal, these double business class seats from Koito will fit right at home with you. What makes these seats special is their electronic operation via the remote controls found in the center armrests. These control the included infotainment screens on the back of the headrest.

These seats have been cleaned, refurbished, and authenticated by SkyArt for non-aviation use. They're an instant conversation starter wherever you place them and you don't need to worry about assembly or installation either. All of that work has done for you by SkyArt so you just have to unbox them and place them in your desired location.

The Koito business class airline seats come complete with folding tray tables inside both armrests along with adjustable headrests for maximum comfort. The center life-vest compartment offers storage for books and magazines or anything that you'd like to have within arm's reach. As a bonus, you can also ask about customization options to make this pair of airline seats truly one-of-a-kind and a fit for your current needs. Experience comfort of the business class and order yours today!
PACKING DIMENSIONS
PACKING TYPE : Palleted Wooden Crate
PRODUCT SPECS
Genuine Koito Business Class Seats
Re-upholstered with brand new covers are available at additional cost
A wide selection of new covers in material and colors
Floatable cushions
Built to last and tested to 16G impact
Corrosion-proof aviation-grade aluminium frame
Customisation options
Condition: As Removed
Configuration: Double
Operation: Manual
Style: Classic
In-Flight Entertainment (IFE) System
Optional Add-Ons: Seat Belts, Seat Tracks
Part_Number: 83290B 17255-404
Manufacturer: Koito
Ready to be dispatched from Istanbul, Singapore