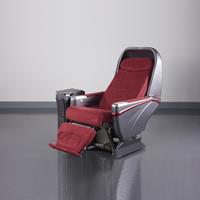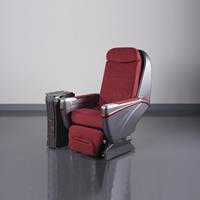 SOGERMA BUSINESS CLASS LIE-FLAT SEAT – SINGLE FAUX-LEATHER
Bring luxury to your home, business, or office space with this Sogerma Business Class Lie-Flat Seat.
Like many of our products, this chair lived a long life aboard a Turkish Airlines A330. This particular model has been converted from an original double business class seat and comes with brand new faux leather cushion covers.
Among this model's many features is the one-button electronic TTL positioning system, which allows you to recline in both style and comfort. The original folding tray has been refurbished into a stand-alone wheeled unit by our SkyArt engineers.
The electronic components are designed to work with 110V-240V / 50-60 Hz domestic power and feature simple, plug-in functionality.
Each Sogerma Business Class Lie-Flat Seat is refurbished upon order, so allow for roughly three weeks between order confirmation and the dispatching of the order. Like all SkyArt aviation furniture, it retains as many of the original parts as possible. These include the built-in reading lights, storage compartments, and power outlets. Upon request, we can include the original in-flight entertainment screen as well.
For airplane furniture that truly recreates the experience of being in an aircraft interior, there is no source better than SkyArt.
With love, care, and a passion for flight, we help you bring the world of aviation to your home, business, or office.
PACKING DIMENSIONS
PACKING TYPE : Palleted Wooden Crate
PRODUCT SPECS
Converted into a single seat from an original double assembly
Electronic and manual controls
Operates with 100-240V domestic AC power (50-60Hz)
180 degrees lie-flat recline
Various upholstery options (additional charges may apply)
Stands alone mobile side unit with folding tray table
Condition: Refurbished
Configuration: Single
Operation: Electronic
Style: Fantastic
In-Flight Entertainment (IFE) System
Optional Add-Ons: Passenger Life Vests, Seat Belts, Seat Tracks
Manufacturer: Sogerma
Aircraft Model: A330
Ready to be dispatched from Istanbul, Singapore