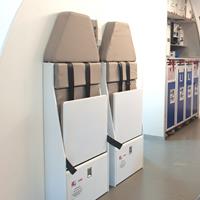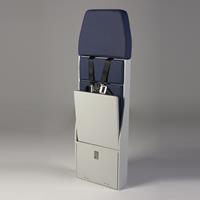 Available only in small numbers in each aircraft cabin we acquire, sometimes it is not being possible to source genuine crew seats. Our team are very experienced in reverse-engineering complex systems, then come up with practical, sustainable innovations.

This includes our Generic Replica Crew Seat, a faithfully-recreated crew seat boasting intuitive design, all necessary functions as used in an aircraft and an eye-catching style.

Perfect for your cabin crew training needs, also for aviation-themed spaces, events or even camper vans, RVs. Motor homes and wherever you have limited space.

The replica crew seat is designed for maximum durability and comes in a variety of color and upholstery options.

All of our SkyArt Generic Replica Crew Seats are designed both comfort and realism. All parts are faithfully recreated and/or sourced from old airplane seats. For high quality, authentic aircraft theme, shop SkyArt Aviation Furniture.
PACKING DIMENSIONS
PACKING TYPE : Palleted Wooden Crate
PRODUCT SPECS
Generic Replica Crew Seat in brand new faux leather
Comes with an original 4 point, retractable seat belts
The torchlight is sold separately
Other upholstery options are available, additional cost may apply
Condition: Brand-New
Configuration: Single
Operation: Manual
Style: Classic
Manufacturer: SkyArt
Ready to be dispatched from Istanbul