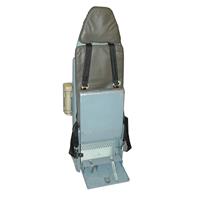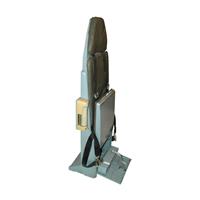 Own a stylish and authentic piece of aviation history with this genuine Airbus Crew Seat. Commonly known as a "jump seat" by the airline industry, our crew seats are all sourced from a genuine Airbus aircraft, then carefully restored using premium components and elaborate workmanship.

Each Airbus Aircraft Crew Seat features a four-point retractable seat belt, foldable seating cushion and safety equipment storage compartments. Some seats have the housing for the original re-chargeable aircraft torchlight as well. ( the torchlight is sold separately).

Choose from the original airline fabric upholstery, new faux leather in the color of your choice, or brand new, 100% genuine leather. Aircraft crew seats are popular with aviation training mock-ups, camper vans, motorhomes, boats and wherever space is limited.

All of our aviation furniture comes with a certificate of authenticity detailing the originating plane's history and more. So, you will not only have an authentic chair, you will also proudly own a piece of aviation history.

For high quality, authentic aviation furniture to suit your taste, shop SkyArt.
PACKING DIMENSIONS
PACKING TYPE : Palleted Wooden Crate
PRODUCT SPECS
Genuine Airbus Single Cabin Attendant Seat with original cushion covers
Comes with the original 4 point, retractable seat belts
The torchlight is sold separately
Other upholstery options are available, additional cost may apply
Condition: As Removed
Configuration: Single
Operation: Manual
Style: Authentic
Manufacturer: AIRBUS
Aircraft Model: A310
Ready to be dispatched from Istanbul