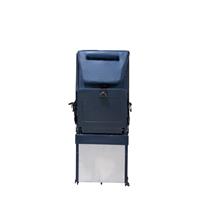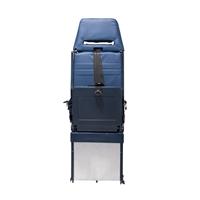 Enjoy a piece of aviation history in comfort and style! This 100% authentic Boeing Aircraft Crew Seat has been repurposed from a retired 737 aircraft by SkyArt and carefully transformed into a fully-functional, high-quality piece of aviation furniture.

Suitable for cabin crew training mock-ups, camper vans, RVs, boats and wherever space is limited, the crew seat comes with a variety of upholstery and color options.

Known as "jump seats" in the industry, our Boeing Crew Seats include a four-point, quick-release retractable seat belt, a folding seating cushion and have been fully refurbished to complete working order. Select from the original manufacturer upholstery (available in both fabric and leather), new faux leather in the color of your choice, or genuine leather upholstery for maximum comfort.

As always, every piece of SkyArt aviation furniture we sell comes with a certificate of authenticity that includes the donating aircraft's full history and more. From the office to the display room, Boeing's aviation design furniture is sure to make a stunning impression.
PACKING DIMENSIONS
PACKING TYPE : Palleted Wooden Crate
PRODUCT SPECS
Genuine Boeing Cabin Attendant Seat
Available with various upholstery options
4 Point quick-release retractable seat belts
Condition: Refurbished
Configuration: Single
Operation: Manual
Style: Classic
Manufacturer: Driessen
Aircraft Model: B737
Ready to be dispatched from Istanbul