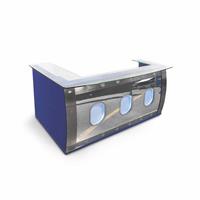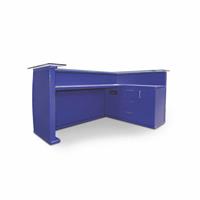 Your reception area is due for an upgrade and SkyArt has your solution in this genuine fuselage reception counter. This desk is made from the fuselage of a decommissioned plane and features the authentic windows for an added flair of aviation design.

SkyArt allows you to customize the design of this aviation reception counter in many ways. Choose from a variety of finishes from a mirror-like shine to matte satin or have the top repainted in a color of your choosing. You can also choose either wood or tempered glass for the scalable worktop too.

Optional lighting elements add a new dimension to this aviation desk along with wiring options to make this desk as usable as possible for workers and their technology. Each piece comes with a certificate of authenticity. Add a statement-making aviation desk to your reception area with this desk!
PACKING DIMENSIONS
PACKING TYPE : Palleted Wooden Crate
PRODUCT SPECS
Made to order with a genuine piece of aircraft fuselage
Customisable in colors and finishes
Optional RGB lighting inside the windows
Condition: Manufactured as new using genuine aircraft parts
Finish: Raw, Painted, Airbrush Art, Sand Blasted, Matt Satin, Mirror - Shiny
Optional Add-Ons: Built-in Power Sockets
Manufacturer: SkyArt
Aircraft Model: A320
Lead_time: 6 weeks
* Subject to change based on SkyArt's schedule at the time of order confirmation