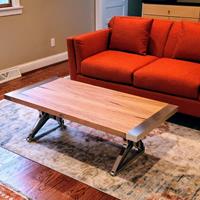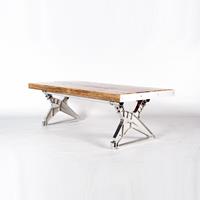 Simple. Elegant. Airline-inspired. These three things describe the Cross Coffee Table from SkyArt perfectly. If you want to update your living area and add a touch of aviation-inspired design, this is the coffee table for you.

We have taken the seat legs from an economy class seat and polished them to a mirror-like shine. We specialize in upcycling pieces and components from decommissioned planes and giving them a new life as a functional piece of art. This coffee table has a simple and attractive design and is currently in stock.

The solid wood worktop is made using old wood and is perfectly upcycled to promote sustainability and the heritage of each piece of lumber. The Cross Coffee Table comes with a certificate of authenticity and is practically guaranteed to be a conversation starter.

The standard dimensions of the Cross Coffee Table are 160 cm x 60 cm, however, custom dimensions are also available upon request.
PACKING DIMENSIONS
PACKING TYPE : Palleted Wooden Crate
PRODUCT SPECS
Condition: Manufactured as new using genuine aircraft parts
Manufacturer: SkyArt
Ready to be dispatched from Istanbul, Singapore