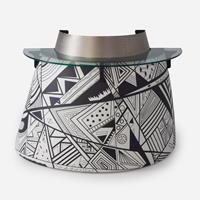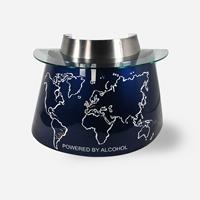 Make a statement as soon as visitors enter your space with this authentic bar upcycled from an authentic aircraft jet engine thruster from a General Electric CF6 jet engine. You have never seen a bar quite like this one. SkyArt has refurbished the raw reverse thruster to become a one of a kind piece of functional art.

This is a great product to use as a small bar for events or in a corporate office. There is a small worktop inside and you can customize the materials, choosing either wood or glass.

You can also customize the finish of the metal to be either glossy or matte and can even request a custom airbrush design to fit the design scheme of your office. The front counter can me made of solid wood or any other material such as glass of metal. With concealed wheels for easy transportation and custom wiring options, if you have been looking for a statement-making mini-bar, you have found it.
PACKING DIMENSIONS
PACKING TYPE : Palleted Wooden Crate
PRODUCT SPECS
Condition: Manufactured as new using genuine aircraft parts
Finish: Painted
Optional Add-Ons: Built-in Power Sockets
Manufacturer: SkyArt
Aircraft Model: A340 MSN: 766
Lead_time: 4 weeks
* Subject to change based on SkyArt's schedule at the time of order confirmation