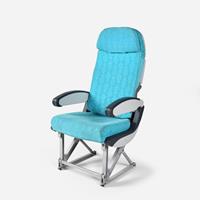 Weber Economy Class Seat - Single
One of the most prized products in the SkyArt inventory, this Authentic EC single seat has been upcycled from a Weber brand A330 passenger seat. As a fitting tribute to its origins, we've retained the original Turkish Airlines fabric cushion covers, which have been cleaned and repaired so that they display only minor wear marks.
As with all aircraft seats, this one maintains its ability to resist a 16G impact. It also features the original tray table located behind the seat, folding armrests, and a latterly folding and fully-adjustable headrest.
At SkyArt, being able to maintain the look and authenticity of the airplane furniture we create is always a top priority. For functional premium airplane furniture that tells a story, we are the world's number one source.
PACKING DIMENSIONS
PACKING TYPE : Palleted Wooden Crate
PRODUCT SPECS
Genuine Aircraft Seat from an Airbus A330
Various upholstery options available, additional cost may apply
The original recline function is intact
Condition: As Removed
Configuration: Single
Operation: Manual
Style: Classic
Optional Add-Ons: Seat Belts, Seat Tracks
Manufacturer: Weber
Aircraft Model: A330
Ready to be dispatched from Singapore