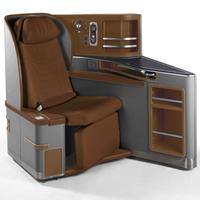 On long, cross-continental flights, lie-flat pod seats are the gold standard in travel. They make you feel as if you are in your room, isolated from the rest of the cabin, so you can relax, rest, and prepare for whatever comes next in the adventure. The Sicma Lie-Flat Pod Seat is that same seat pulled from an Eva Air B7777-300ER aircraft during cabin refurbishment and restored and maintained by SkyArt.
Now you can experience what these pods are truly like from the comfort of home. This single-seat includes all of the features and amenities that first-class travellers enjoy and pay a premium for in the skies. The seat is controlled electronically and can recline up to 180 degrees with pre-set positions. Besides, this seat also features the original folding tray tables tucked away and the in-flight entertainment system as well. This single pod airline seat also has ample storage, for magazines, books, drinks, and more, including a power outlet to charge your mobile devices.
When it comes to comfort, only a few seats can match the quality of the Sicma Lie-Flat Pod Seat.
Sicma Lie Flat Seat comes with free shipping (*) worldwide for a limited time.
Order yours today! (*) The free shipping method varies on the destination country.
PACKING DIMENSIONS
PACKING TYPE : Palleted Wooden Crate
PRODUCT SPECS
Comes from an Eva Air B777-300 aircraft.
180 degrees Lie-Flat
Original seatbelt with an airbag
Includes the IFE (In-flight Entertainment) System.
One button TTL position.
Motorised electronic recline control.
Altered to work with 110V-240V / 50-60 Hz domestic power.
Adjustable and dimmable reading light for each seat.
Hidden folding tray table.
Also available with any color brand new cushion covers upon request. (additional charges may apply).
Condition: Refurbished
Configuration: Single
Operation: Electronic
Style: Classic
In-Flight Entertainment (IFE) System
Manufacturer: Sicma
Aircraft Model: B777
Ready to be dispatched from Istanbul