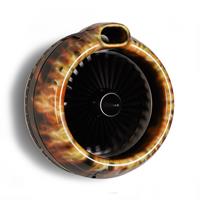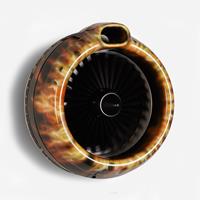 This work of art is unlike anything else. Not only is it a perfect addition to any home, business, or office setting, just like other SkyArt designs, it has a story to tell as well.

Our Fokker F-27 engine nose cowling came from the MSN 10469, which made its maiden flight on the 10th of May, 1971. Over the years, it passed through 10 different operators, making it one of the longest-serving aircraft of its kind. However, upon being involved in a taxiway accident at Edinburgh Airport, the MSN 10469 was officially retired from service.

After the collision, the plane's usable parts and avionics were taken back to Istanbul, where the operator is based. The aırframe was donated to Edinburgh Airport Fire Services to aid in training exercises. The cowling, however, came to us. And now, SkyArt's expert designers have lovingly upcycled the F-27's Cowling into this one-of-a-kind piece of art.

Not only does this piece boast freehand airbrushed artwork, but it features a rotating replica engine fan controlled by a small electric motor. It also features RGB-enabled LED lights hidden inside the cowl and comes with a fully-customized mounting apparatus. Only one person in the world can own the last piece of the MSN 10469, and it could be you.

Like all other authentic SkyArt products, this Fokker F-27 Wall Art comes with a 'Certificate of Authenticity' detailing the airplane's full history. For high quality, one-of-a-kind airplane memorabilia like this, your best source is SkyArt Aviation Furniture.
PACKING DIMENSIONS
PACKING TYPE : Palleted Wooden Crate
PRODUCT SPECS
Made with a genuine F27-500 engine nose cowling.
Freehand airbrushed artwork.
Motor driven replica engine fan.
Indirect RGB Led lighting, hidden under the cowling.
Comes with a bespoke wall mount apparatus.
Available in other colors upon request
Made with Love!
Condition: Refurbished
Operation: Electronic
Style: Fantastic
Finish: Airbrush Art
Manufacturer: SkyArt
Aircraft Model: Fokker F27
Ready to be dispatched from Istanbul, Singapore