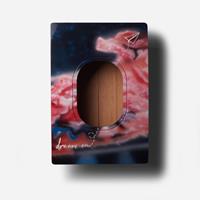 This masterpiece was designed by our award-winning designer Mr Doruk Erdem (@doruk.erdem) and hand airbrushed by our skilled artists.
This AIRCRAFT WINDOW WALL CABINET - AIRBRUSHED WALL ART is made of a genuine fuselage of an Airbus making it very authentic and durable.
There is only one and there will not be another one in the world. It comes with a certificate of authenticity.
PACKING DIMENSIONS
PACKING TYPE : Palleted Wooden Crate
PRODUCT SPECS
Made of genuine aircraft skin
Comes from a Myanmar Airlines A320 (MSN 316) aircraft
Solid wooden cabinet with an authentic aircraft window
Freehand airbrushed by a skilled "SkyArtist"
Unique aviation memorabilia
Condition: Refurbished
Style: Fantastic
Manufacturer: AIRBUS
Aircraft Model: A320