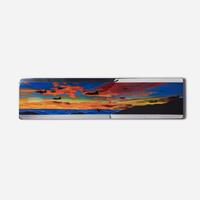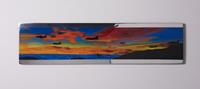 This unique masterpiece was created by our award-winning designer Doruk Erdem (@doruk.erdem) and freehand-airbrushed by the skilled artists here at SkyArt.

The canvas is made of a genuine Myanmar Airlines A320 airframe, custom-sized and repurposed to preserve its authenticity. Our included bracket system allows you to safely and securely hang this piece of original art for all to see.

Of course, as a one-of-a-kind work, The Sunset Wall Art comes with a Certificate of Authenticity detailing the original plane's full history. For high-quality, authentic airplane memorabilia and art like this, shop SkyArt.
PACKING DIMENSIONS
PACKING TYPE : Palleted Wooden Crate
PRODUCT SPECS
Comes from a Myanmar Airlines A320 Airframe
Cut to a custom size
Freehand airbrushed by talented SkyArt Artist
Bespoke wall bracket included
Unique artwork, made with love!
Condition: Refurbished
Style: Fantastic
Finish: Airbrush Art
Manufacturer: AIRBUS
Aircraft Model: A320
Ready to be dispatched from Istanbul, Singapore