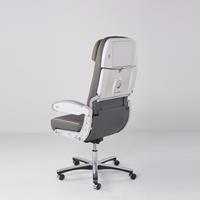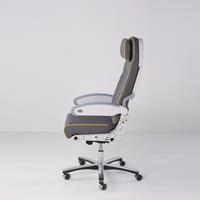 Our unique Volant Office Chair has been reconditioned from an original Weber brand aircraft passenger seat.
Sourced from a Turkish Airlines A330 economy cabin, this 360-degree swivelling chair is the perfect piece of aviation furniture for your office, home, or business.
Each Weber Volant Office Chair has been refurbished in stylish faux-leather, offering all the comforts of the real thing with none of the cost or upkeep.
The image shows gray color chair with a yellow trim and is still in stock and available for purchase. However, you are welcome to customize your upholstery as you see fit.
Every one of our SkyArt Volant Office Chairs come with manually-operated adjustable height and a five-position lockable spring-back tilt mechanism. Aside from the full swivelling function, each chair is fully mobile due to the rolling casters placed under the metal pedestal.
Our team takes care to retain the look and feel of these used aircraft seats, which feature the original tray tables behind each seat as well as the original folding armrests. If needed, they would be able to resist the impact of up to 16Gs.
At SkyArt, we design aviation furniture that is elegant, functional, and historically accurate. Search our website to find options to suit all needs.
PACKING DIMENSIONS
PACKING TYPE : Palleted Wooden Crate
PRODUCT SPECS
Corrosion-resistant, aircraft-grade aluminium frame.
16G tested.
Manufactured by Weber.
Comes from TC-JND, the aircraft is still actively flying.
Adjustable headrest with lateral support flaps
130 Degrees pneumatic recline.
Lockable spring back tilt action.
360 degrees rotating chrome wheel-base.
Foldable service tray and magazine pocket behind the backrest.
Fire-proof and floatable seat cushions.
This version comes with brand new faux leather covers
Various upholstery options (additional charges may apply)
Condition: Refurbished
Configuration: Single
Operation: Manual
Style: Classic
Optional Add-Ons: Seat Belts
Manufacturer: Weber
Aircraft Model: A330 MSN: 754
Ready to be dispatched from Istanbul, Singapore