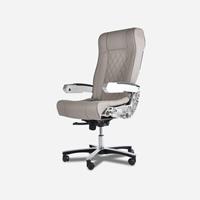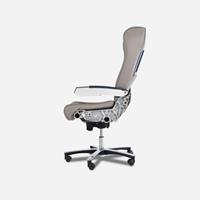 Our SkyArt artisans design some of the highest quality aircraft style furniture in the world, and this Volant Office Chair is an excellent example.
Originally, this Sicma brand passenger seat was in the economy section of a Turkirsh Airlines B737-800 aircraft. Lucky for you, our team has lovingly repurposed it into a fully-functional airplane chair for use in your home or office.
The "Diamond Pattern Stitched" version of this model has been fitted with brand new faux leather cushion covers. You can select from a wide range of colours at www.skyart.com/colors#FL or purpose it as shown.
This refinishing means each seat will feel and look brand new, despite having logged thousands of hours as an airplane chair.
Each of our SkyArt Volant Office Chairs features a 360-degree swivel function, adjustable height, and a five-position spring-back tilt mechanism for maximum comfort. Every chair sits upon a solid metal pedestal supported by durable casters for easy mobility.
Just like the original Sicma seats, this one features folding armrests and the original tray table. Built to last, the seat can withstand an impact of up to 16Gs.
All of our SkyArt Volant Office Chair models are sourced from real aircraft and ship with a certificate of authenticity.
If you're looking for stunning airplane furniture for your home or office, SkyArt has what you need.
PACKING DIMENSIONS
PACKING TYPE : Palleted Wooden Crate
PRODUCT SPECS
Converted from Sicma brand aircraft passenger seats
Resistant to up to 16G impact with superior aviation engineering
360 degrees swivel function
Five positions lockable spring-back tilt mechanism
Adjustable height
Original tray tables behind each seat
Cast metal pedestal base on casters
Folding armrests
Diamond PatternStitching
Customisable in upholstery and paint colors
Condition: Refurbished
Configuration: Single
Operation: Manual
Style: Fantastic
Optional Add-Ons: Seat Belts
Manufacturer: Sicma
Lead_time: Lead Time to Dispatch 2 weeks
* Subject to change based on SkyArt's schedule at the time of order confirmation