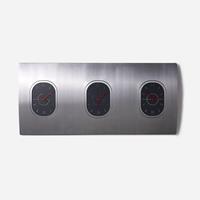 This outstanding three window wall clock art was developed from the genuine fuselage of Airbus 320-322.
This wall art does not only emit beauty but also history.
The aircraft has travelled across several continents and been used by several top-notch Airlines.
The window wall clock art emits beauty wherever it is hanged.
PACKING DIMENSIONS
PACKING TYPE : Palleted Wooden Crate
PRODUCT SPECS
Made with genuine aircraft windows
Comes from a Myanmar Airlines A320 aircraft
Selection matt, shiny, repainted, airbrushed, sand-blasted finishes, (additional charges may apply)
Customisable paint color on the back
Condition: Refurbished
Configuration: Double
Operation: Electronic
Style: Classic
Finish: Raw, Painted, Airbrush Art, Sand Blasted, Matt Satin, Mirror - Shiny
Manufacturer: AIRBUS
Aircraft Model: A320
Ready to be dispatched from Istanbul, Singapore