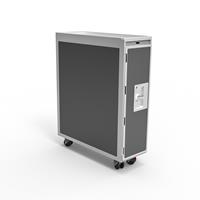 The Cabinet Trolley is manufactured using aircraft service trolleys. Aircraft service trolleys are very popular, not only with aviation enthusiasts but also with interior designers, restaurant and bars, cabin crew training centres, movie production companies, cabin simulators and such like. It literally suits any need as a decorative storage solution.
The meal trolley is also decorational piece of furniture for homes and offices. It is widely used as a drinks cabinet, bookshelf, CD Rack, clothes storage, filing cabinet etc.
The body of the trolley can also customised to your taste. Many corporate customers use their company logos on theirs.
Great Idea, Great Design. Order yours today!
Dimensions: 103cm x 80cm x 30cm Weight: 21kg
PACKING DIMENSIONS
PACKING TYPE : Palleted Wooden Crate
PRODUCT SPECS
Corrosion Proof Aluminium Structure
Compact Foldable Design
Can carry up to 32 kg
Easily stored in limited spaces
Condition: Manufactured as new using genuine aircraft parts
Operation: Manual
Manufacturer: SkyArt
Lead_time: 2 weeks
* Subject to change based on SkyArt's schedule at the time of order confirmation