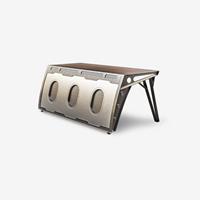 A desk like no other for the executive whose work is unlike any other. The C Desk from SkyArt is made from a genuine fuselage section of an Airbus A320 and has been upcycled and turned into the airplane office desk you see before you. The C Desk offers a minimalist aesthetic, and while not necessarily dominating a room with its presence, is a unique piece of airplane furniture for anyone who values handmade art, cares about upcycling, and appreciates timeless design.

Not only is this fuselage section desk beautiful to look at, but it is also incredibly strong, made with a custom cast-iron structure and tempered glass on the top, ready for your use.

If you would like to customize this desk, we can do that too, working with you to customize the secondary colors, dimensions, and the finish of the desk as well. Bring home a piece of aviation history and order yours today!

Each desk comes with a Certificate of Authenticity, telling you a brief history of the aircraft it was upcycled from.
PACKING DIMENSIONS
PACKING TYPE : Palleted Wooden Crate
PRODUCT SPECS
Condition: Manufactured as new using genuine aircraft parts
Operation: Manual
Finish: Painted, Airbrush Art, Sand Blasted, Matt Satin, Mirror - Shiny
Optional Add-Ons: Built-in Power Sockets
Manufacturer: SkyArt
Aircraft Model: A320 MSN: 676
Ready to be dispatched from Istanbul