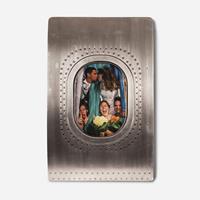 Here is a genuine Airbus A320 window that you can use as a photo frame. It has travelled the world for a very long time.
Imagine how much has changed in the world since 1979 but they are still as strong as they were on Day 1. You can use this aircraft window as an object for your home & office decoration. It is also an unusual gift idea.
The interior layer of perspex window can easily be removed to place a photo (or anything you like) in between the layers. This product is very popular with our customers and can also be purchased satin or mirror finishes as well as the double window size.

PACKING DIMENSIONS
PACKING TYPE : Palleted Wooden Crate
PRODUCT SPECS
Genuine aircraft window
Comes from a Myanmar Airlines A320 aircraft
Sandblasted textured finish to bear aluminium color
Comes with bespoke wall bracket
Standard dimensions 55x75x12 cm and weights 7 kg
Condition: Refurbished
Configuration: Single
Style: Classic
Finish: Raw, Painted, Airbrush Art, Sand Blasted, Matt Satin, Mirror - Shiny
Manufacturer: SkyArt
Aircraft Model: B737