SKYART WAS IN HURRIYET NEWSPAPER
Source :
Hurriyet Newspaper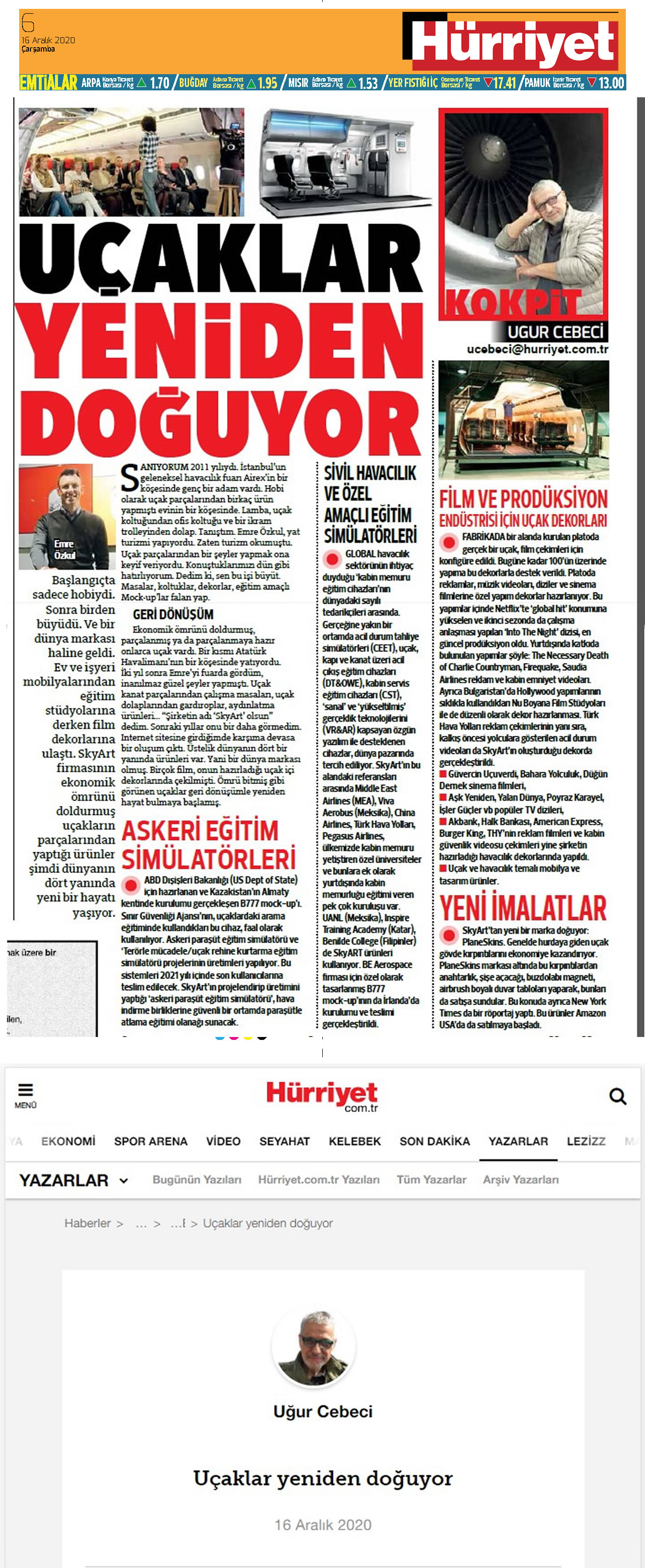 In the beginning, it was just a hobby. Then it suddenly grew larger. And it has become a world brand. From home and workplace furniture to education studios, it reached movie decors. The products that SkyArt has made with old aircraft parts are now living a new life all over the world.
I think it was 2011, there was a young man in a corner of Airex Air Show, Istanbul's traditional aviation fair. As a hobby, he had made several products from aircraft parts. Lamps, office chairs from used airplane seats and a wardrobe from a catering trolley. This is how I met Emre Özkul, he was in a yacht tourism business. It was a pleasure for him to upcycle old plane parts. I remember what we talked about like yesterday. I said to him, "you will grow this business. Build tables, chairs, décors, educational Mock-ups, etc."
UPCYCLING
There were dozens of aircraft that were waiting to be dismantled. Some of them were lying in a remote corner of Istanbul's Atatürk Airport. Two years later I saw Emre at the next Airex fair, he did incredibly beautiful things. Desks made of aircraft wing parts, wardrobes from aircraft cabinets, lighting products… I said, "Let the name of the company be" SkyArt ". In the following years, I did not see him again. When I visited the website, skyart.com, a huge formation appeared. Moreover, they have products all over the world. So it has become a world brand. Many films were shot in the airplane decors he prepared. Airplanes that seem to be out of life have begun to come to life with Emre's upcycling efforts.
MILITARY TRAINING SIMULATORS
A B777 mock-up has been prepared for the US Department of State and installed in Almaty, Kazakhstan. This device, which is used by the Border Security Agency in search training aircraft, is actively used. Military parachute training simulator and 'Anti-terrorism / aircraft hostage rescue training simulator projects are produced. These systems will be delivered to end-users in 2021. The "military parachute training simulator", designed and produced by SkyArt, will offer parachute jumping training in a safe environment for airborne troops.
AIRCRAFT DECORS FOR THE FILM AND PRODUCTION INDUSTRY
A real plane was configured as decor for filming on the factory floor. More than 100 productions have been supported with these decors so far. Special decors for commercials, music videos, series and movies are prepared on this plateau. Among these productions, the "Into The Night" series, which became a "global hit" on Netflix and had a working agreement in the second season, was the most recent production. Productions contributed abroad are The Necessary Death of Charlie Countryman, Firequake, Saudia Airlines commercials and cabin safety videos. Also, regular decor preparation with Nu Boyana Film Studios, which Hollywood productions frequently use in Bulgaria. In addition to the Turkish Airlines commercials, the emergency procedures videos shown to the passengers before departure were also performed in the decor created by SkyArt.
NEW MANUFACTURING
A new brand is emerging from SkyArt: PlaneSkins. Usually scrapped aircraft fuselage cutouts are useless for the economy. Under the PlaneSkins brand, they made key rings, bottle openers, fridge magnets, airbrush painted wall paintings from these scraps and offered them for sale. They also gave an interview to the New York Times on this issue. These products are now sold on Amazon USA.
https://www.hurriyet.com.tr/yazarlar/ugur-cebeci/ucaklar-yeniden-doguyor-41689685