FIRST CLASS SEATS FOR PRIME MINISTER'S CAMPAIGN COACHES
Source :
Hurriyet Newspaper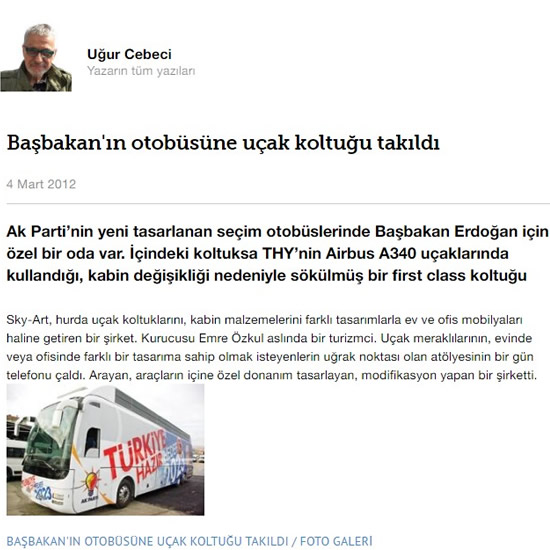 There is a private room for Mr Erdoğan, Turkish Prime, in each one of AK Party's election buses. The seat used in this room comes from a Turkish Airline's Airbus 340 aircraft First Class.
SkyArt is a company that brings scrapped aircraft parts back to life as home and office furniture in different forms and designs. The founder, Mr Emre Özkul comes from tourism background. One day he received a phone call from a VIP vehicle design company telling that they are refurbishing 8 coaches for a special passenger. They were interested in aircraft seats. Mr Özkul suggested the Airbus A340 First Class Seats.
Aircraft parts are upcycled
The company was happy with the offer and they placed the order right away. First of all the seats have been converted into singles. Then they have been re-upholstered into a different color for each bus. The electric systems have been converted. At the delivery day, Mr Özkul has found out that the 'special passenger' was the Turkish Prime minister.
The lightweight and corrosion-resistant seats are built to last. Özkul explained to us that the material is very popular with the automotive industry. He says 'our job is upcycling. Aircraft cabin interiors become unserviceable after a while or sometimes the airline decides to refurbish the cabin. We buy this surplus aircraft material and we use them outside the aviation industry, turning them into aviation-themed decorative items.'
The most popular items are the aircraft seats. They are being refurbished to your taste with new upholstery, new lighting and head-rest covers with logo. In that way the customer's preferences that make the price.
Besides the passenger seats, there are also pilot and cabin crew jump seats as well as a Martin Baker MK2 ejection seat. The range is not limited to seats only, at the corner I see a reading lamp made with hydraulic flap arm, an engine stator turned into a wall mirror. Many people choose to have objects made with old aircraft parts in their homes. - Tolga ÖZBEK
Seat Belt for Fun Fairs, lavatory for campers
* Lavatories are popular with camper caravan owners. They can be easily fitted to camper vans.
* Fun Fairs buy the seat belts. Pilot seat belts are used by off-road riders.
* Many boat owners prefer aircraft seats on their boats as the material is light-weight, durable and corrosion-resistant.
* Turkey's fast ferries operator IDO uses SkyArt's own design aircraft trolleys on their ferries.
* Movie production companies rent the aircraft cabin mock-up for their projects. The seats can also be rent for events.
* Some customers fit aircraft cabin mock-up units in their homes for decoration. The units are equipped with genuine aircraft galleys and overhead bins.