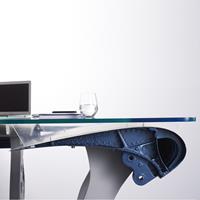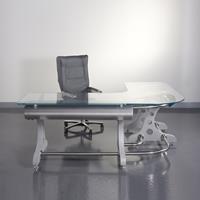 The top executive at the company deserves an executive round corner office desk unlike any other. If you're a big aviation fan or just want to add a touch of industrial appeal to your office, this aviator desk is for you! The Round Corner Desk is made using the genuine wing slats from an Airbus A300 aircraft. These wing slats have seen millions of miles and are now yours to use with this premier luxury aviator office desk.

Available in both left or right turn angles, SkyArt is also ready to customize your round corner aviation desk to best fit your needs and aesthetic as well. Choose from custom secondary colors, custom wiring for your office devices, or even the actual dimensions to better fit your space.

SkyArt specializes in upcycling aviation parts and breathing new life into them. Once destined for the scrapyard, these wing slats are now ready to call your office home.

This is the perfect piece of aviation furniture for anyone that is a fan of functional design or enjoys the thought of owning a part of aviation history.

Each desk comes with a Certificate of Authenticity, telling you a brief history of the aircraft it was upcycled from.


PACKING DIMENSIONS
PACKING TYPE : Palleted Wooden Crate
PRODUCT SPECS
Made with genuine aircraft wing slats
Left or Right Turn options
Comes in various finishes, please specify
Hand-welded, powder-coated bespoke metal legs
Customisable in colors
Custom shape tempered desktop glass
Condition: Refurbished
Configuration: Single
Finish: Raw, Painted, Airbrush Art, Sand Blasted, Matt Satin, Mirror - Shiny
Manufacturer: SkyArt
Aircraft Model: A300