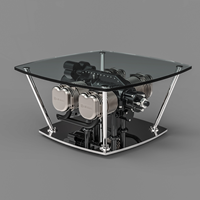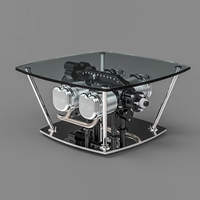 If you're looking for a high-powered coffee table that's guaranteed to start plenty of conversations, this is it. The Rolls Royce Boxer Engine Coffee Table from SkyArt is made for anyone that is a fan of aviation and motors. Using a genuine Rolls Royce engine from a Cessna 150 single-engine aircraft, this table is unlike any others.

This table shines in more ways than one. The chrome of the engine has been professionally polished, restoring the engine back to its original lustre. In addition, this coffee table features a perfectly polished chrome base to reflect the engine above in a stunning fashion.

Finally, the top of the coffee table is made of custom curved tempered glass that is scalable depending on the size of your space. Each table comes with a certificate of authenticity and is ready for your living room, office, or anywhere you'd like to add a touch of high-octane design.
PACKING DIMENSIONS
PACKING TYPE : Palleted Wooden Crate
PRODUCT SPECS
Style: Classic
Manufacturer: SkyArt
Aircraft Model: Cessna 150 MSN: 15071664
Lead_time: 3 weeks
* Subject to change based on SkyArt's schedule at the time of order confirmation