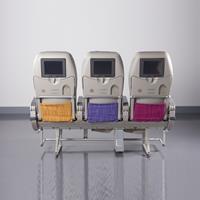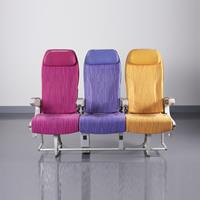 Take a piece of aviation history home with you! These 100% authentic airline seats are yours to own for non-aviation use. They have been expertly refurbished, repaired, and maintained by SkyArt and will be the ultimate conversation starter in your living room, office, home theatre, or game room.

These economy class seats were pulled from a Thai Airways B777-200 plane during cabin refurbishment. Rather than disposing of them, they have been upcycled, and are now yours to purchase. The three seats all feature a manual recline and folding headrest support. Behind the seats, you'll find the original in-flight entertainment screens along with the remotes to control the screens as well.

We offer these authentic airline seats in their original and restored condition. If you would like to customize your seats, we are happy to provide varying cushion materials such as leather and faux leather at an extra cost. We can also custom embroider the headrest as well. Whether purchased as a set of three or just one at a time, get yours from SkyArt today!
PACKING DIMENSIONS
PACKING TYPE : Palleted Wooden Crate
PRODUCT SPECS
Aviation Grade Aluminium Alloy Frame
Comes from A Thai Airways B777 aircraft
Includes the in-flight entertainment screens and seat boxes
Built to last, tested to 16G impact
Quick-release mounting brackets included
Brand new cushion covers available upon request
Condition: As Removed
Configuration: Triple
Operation: Manual
Style: Authentic
In-Flight Entertainment (IFE) System
Optional Add-Ons: Seat Belts, Seat Tracks
Part_Number: 3510B352-31Z218
Manufacturer: Recaro
Aircraft Model: B777 MSN: 27731
Ready to be dispatched from Istanbul, Singapore