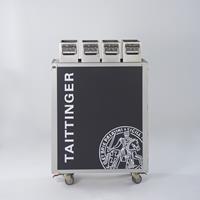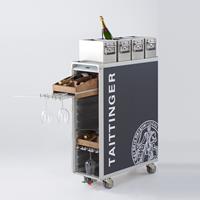 Enjoy innovative storage solutions while professing your love for aviation history with this refurbished full-size aircraft trolley/cart.
Crafted from a brand-new, fully-functioning trolley, this unit is 100% customizable.
The inserts and the ice buckets are sold separately.
This means you can select from a variety of inserts, including file folder hangers, drawers, ice buckets and even wine and whiskey storage shelves.
Our team will also apply custom artwork to every individual piece according to each client's specifications. For unique aircraft furniture for your home, office, or business, shop SkyArt.
PACKING DIMENSIONS
PACKING TYPE : Palleted Wooden Crate
PRODUCT SPECS
The inserts are sold separately
Condition: Manufactured as new using genuine aircraft parts
Manufacturer: SkyArt
Lead_time: 10 Days
* Subject to change based on SkyArt's schedule at the time of order confirmation