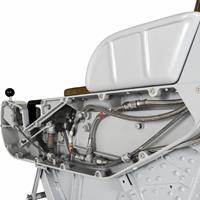 The F-5 Freedom Fighter Ejection Seat has been converted into a unique office chair by SkyArt.
Taken from a Turkish Air Force F-5 aircraft, the seat has been carefully refurbished to become an office chair.
The seat has been completely refurbished to the highest specs and features a 360 degrees swivel and height adjustment. The original 4-point seat belt is still functional and intact.
With the F5 Ejection Seat office chair you will surely make a statement
PACKING DIMENSIONS
PACKING TYPE : Palleted Wooden Crate
PRODUCT SPECS
Corrosion-resistant, aircraft-grade aluminium frame.
16G tested.
Manufactured by Weber.
Comes from F-5 Jet fighter
130 Degrees pneumatic recline.
360 degrees rotating chrome wheel-base.
Fire-proof and floatable seat cushions.
Various upholstery options (additional charges may apply)
Condition: Refurbished
Configuration: Single
Operation: Manual
Style: Fantastic
Manufacturer: SkyArt
Aircraft Model: F5 - Freedom Fighter MSN: 21242
Ready to be dispatched from Istanbul