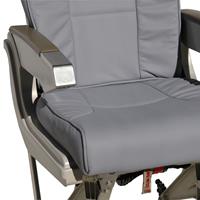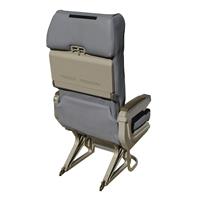 Own a piece of aviation history with this authentic airline seat from an American Airlines A300 aircraft. Just imagine all the memories made in this seat and how you now have a chance to celebrate aviation heritage from the comfort of home. Every time you see it in this seat, you'll feel like you are on a trip to your next vacation!

SkyArt has upcycled this seat, meaning it has been cleaned, refurbished, and maintained. Now it is ready for you and comes to your home fully-assembled and ready to be set up wherever you see fit. Put it in your office, living room, or wherever you'd like to add a touch of aviation aesthetic.

This seat comes complete with the manual backrest recline function, along with the original American Airlines fabric cushion covers, although you can customize with various other materials or colors as well. Whether you enjoy the seat in its stock form or with custom embroidery, you are sure to love this original airline seat. Order yours today!
PACKING DIMENSIONS
PACKING TYPE : Palleted Wooden Crate
PRODUCT SPECS
Genuine economy class passenger seat
Converted from an original double seat unit
Built to last and tested to 16G impact
Floatable cushion covers
Various upholstery options
Condition: Refurbished
Configuration: Single
Operation: Manual
Style: Classic
Optional Add-Ons: Seat Belts, Seat Tracks
Part_Number: testPN-123456
Manufacturer: BE Aerospace
Aircraft Model: A340
Ready to be dispatched from Istanbul